Skip to product information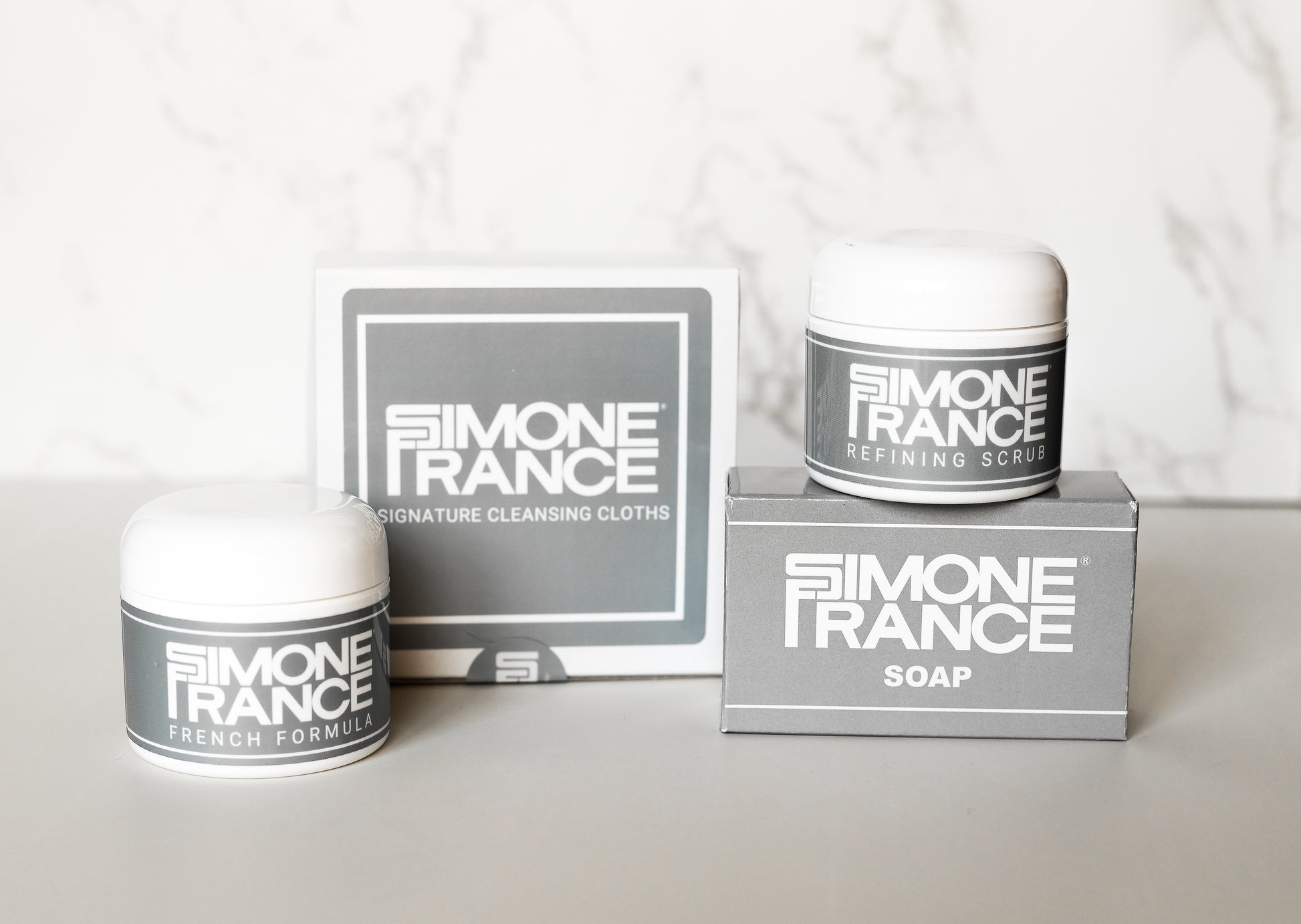 ☀️ AM: The Sandwich® Cleanse, Exfoliate, Moisturize
Make your Simone France Sandwich®, the most effective and unusual way to clean your skin every day. The Sandwich combines moisturizer, scrub, and soap and gives you the perfect amount of mild, daily exfoliation and deep pore cleansing. Every day your skin will be fresh and glowing – like you just had one of Simone's famous facials!
No matter what your skin type or problem, this deep pore cleansing, and mild exfoliation treatment are all you need for a lifetime of healthy, beautiful skin. 
Get ready to clean your skin differently than you ever have before! Instructions for our special method come in your package.
You will see and feel the difference the very first time you use it.
Includes: 2 oz *Moisturizer for your skin type, 2 oz Refining Scrub, 4.5 oz, Soap, and 25 Signature Cleansing Cloths

Normal to Slightly Dry includes *Lovely Glow
Dry to Very Dry includes *French Formula
Normal to Oily Skin includes *Light Moisture Cream
 $99
Benefits
*All-natural 

*Fades or eliminates dark spots and uneven skin tone
*Replaces dullness with a soft, radiant glow
*Reduces or eliminates redness
*Eliminates excess oil/dryness
*Boosts moisturizer performance
*Eliminates blackheads and clogged pores
*Prevents blemishes
*Reduces or eliminates sensitivity
You will see and feel the difference the first time you use it!
Ingredients
Ingredients vary depending on moisturizer for your skin type:
FRENCH FORMULA: (for dry to very dry skin) Water (Aqua), Glycine soja (Soybean) Oil, Lanolin, Isopropyl Myristate, Cera alba (Beeswax), Squalane, Cetyl Palmitate, PEG-100 Stearate, Lanolin Alcohol, Zinc Stearate, Polysorbate 60, Sodium Borate, Emu Oil, Fragrance, Phenoxyethanol, Ethylhexylglycerin
LOVELY GLOW: (for normal to slightly dry skin) Organic Aloe Juice, Rose Distillate, Avocado Oil, Organic Jojoba Oil, Emu Oil, Emulsifying Wax NF, Kosher Vegetable Glycerin, Organic Palm Oil, Palm Stearic Acid, Vitamin E, Phenoxyethanol, Tetrasodium EDTA, Rosehip Oil, Vitamin C Ester, Pro-Vitamin B5, Allantoin, Xanthan Gum, Wheat Germ Oil, Carrot Seed Oil, Vitamin A, Organic Black Willow Bark Extract, Rosemary, Oleoresin, Neem Oil, Citric Acid
LIGHT MOISTURE CREAM: (for normal to oily skin) Water, Safflower Seed Oil, Caprylic/Capric Triglycerides, Glyceryl Stearate, Dimethicone, Sodium Hyaluronate, Ascorbic Acid (vitamin C), Tocopherol (vitamin E), Cetyl Alcohol, Isocetyl Stearate, Cetearyl Alcohol, Ceteareth-20, Steareth 2, Steareth-20, Sodium Polyacrylate, Ethylhexyl Stearate, Trideceth-6, Phenoxyethanol, Caprylyl Glycol, Imidazolidinyl Urea, Tetrasodium EDTA.
REFINING SCRUB: Purified Water, Glycerin, Glyceryl Stearate, Diatomaceous Earth, Triethanolamine, Phenoxyethanol, Diazolidinyl Urea, Sodium Dehydroacetate
SOAP: 100% organic ingredients. Saponified oils of safflower and/or sunflower, palm oil, coconut oil, grapefruit seed extract, and rosemary extract.
SIGNATURE CLEANSING CLOTHS:  Cloths have no product on them - just a special texture and weave


Sale price
$99.00
Regular price
Customer Reviews
01/25/2023
Jimmy Z.

United States
Hi Sally !
We actually spoke before. My Aunt Linda Gordon Simpson and her daughter used to buy from you Manhattan store and then online. My Aunt passed away almost 3 years ago at the age of 89. She used Simone up to that point. I still use the refining scrub, soap, and French formula face cream. We just love the products. Jimmy Zakos Cleveland , Ohio
01/18/2023
Lorene S.

United States
Perfect Product
I've used Simone France for about 30 years. Wonderful for a dry climate!!
10/17/2022
Cathy T.

United States
Great products
Simone France has great skincare products!! My favorite is their face scrub..!it is the best!!
09/07/2021
Lucinda D.

United States
Love my morning sandwich!
Love this common sense approach to skincare.
07/24/2021
Lucinda D.

United States
A game changer for my skin!
Love this minimalistic approach to cleansing and exfoliating my skin without strong chemicals. I swim daily and cannot use retinols or AHAs so this is a must to keep my skin exfoliated safely.
06/24/2021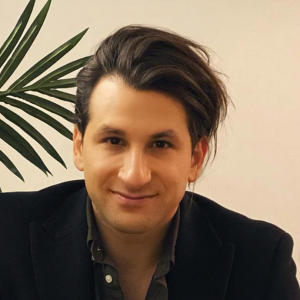 VD
Victor D.

United States
Still the best!
Love it. Better than the other luxury brands and I trust the natural ingredients. Been using it for years.
06/09/2021
Linda D.

United States
Love Simone
Been using Simone France Sandwich for many years. Women are always asking me what I use. Happy to always share.
06/05/2021
Lucinda D.

United States
I keep coming back!
Love the products...and the results. So simple and effective! I'm a daily swimmer and the French formula saves my face!
04/30/2021
Mary A.

United States
This is all you need!
I cannot do without this cleansing regime, it is a no-nonsense line of products that are simple and effective and worth every penny. Once I discovered this line of face and body care I stopped experimenting with other products. I have found my perfect match with this skincare company.
04/08/2021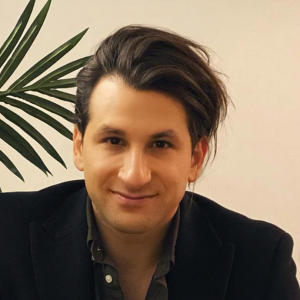 VD
Victor D.

United States
Simply the best.
Simply the best. A facial every morning. Thank God for Simone France.
03/25/2021
Corky L.

United States
Great Product
I really love how my face feels after using the Sandwich. And customer service from y'all is great!
03/10/2021
Linda J.

United States
Love the "Sandwich"!
Great, I've been using these products off and on for years. They're awesome. The Sandwich is glorious. Thank you for keeping the products available for all these years...and the products work! Linda
So EASY!
This is one of the fastest daily skincare routines I have ever used. Once I got the rhythem it took no time at all and my skin started to noticably improve.
06/14/2019
Blank
South Carolina, United States
The Sandwich
Love it also got my hubby hooked !
"Sandwich"
I really love the moisture it provides to my extremely dry New England skin. Thank you Also, can you please tell me if the product line has changed. LAst time I purchased the special formula was pink and smelled pretty?
My skin loves this
I used to describe my skin as very dry but since using this every day for a few weeks now, it's much more like normal. The combination of the French Formula moisturizer and the exfoliating scrub really does the trick.