Skip to product information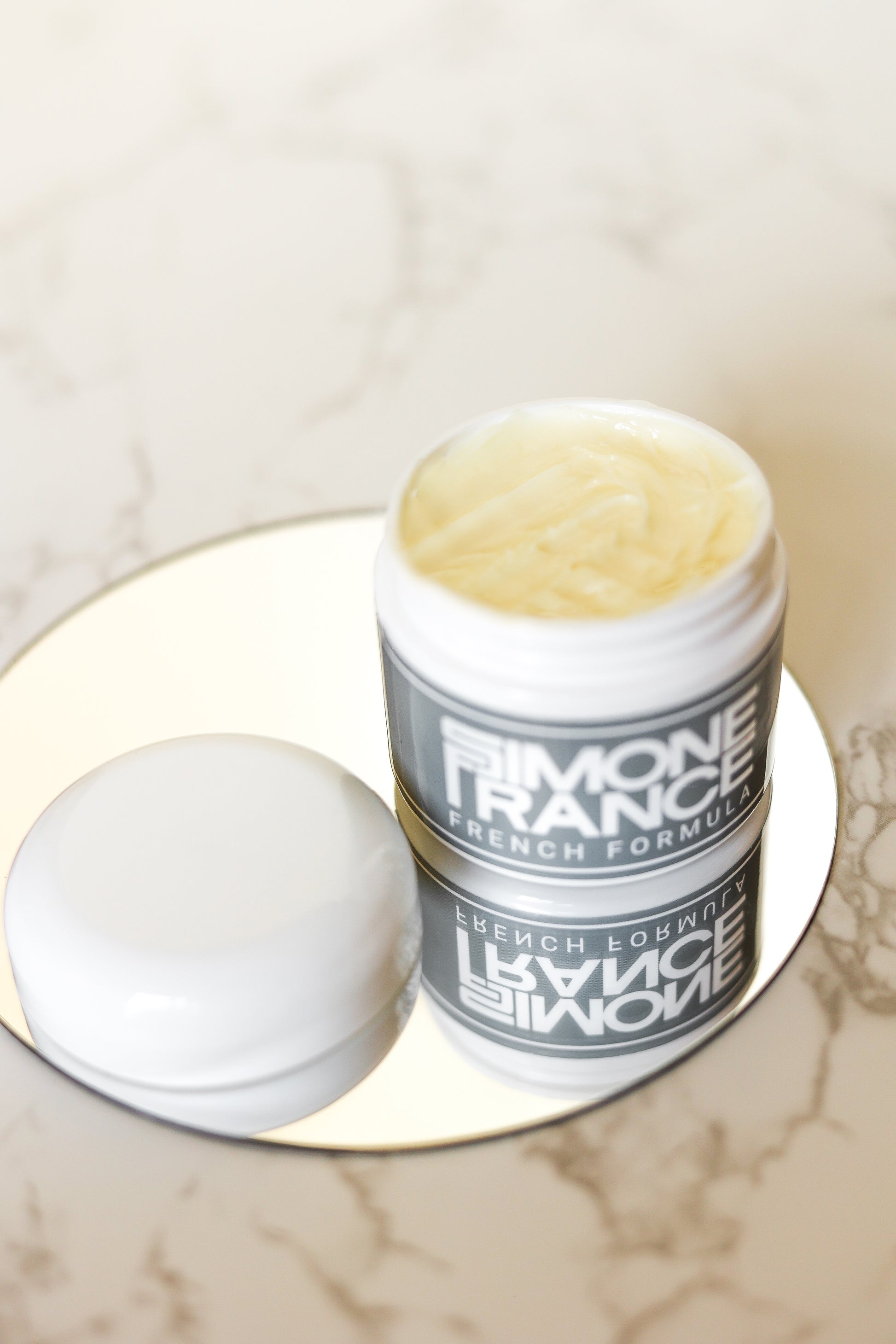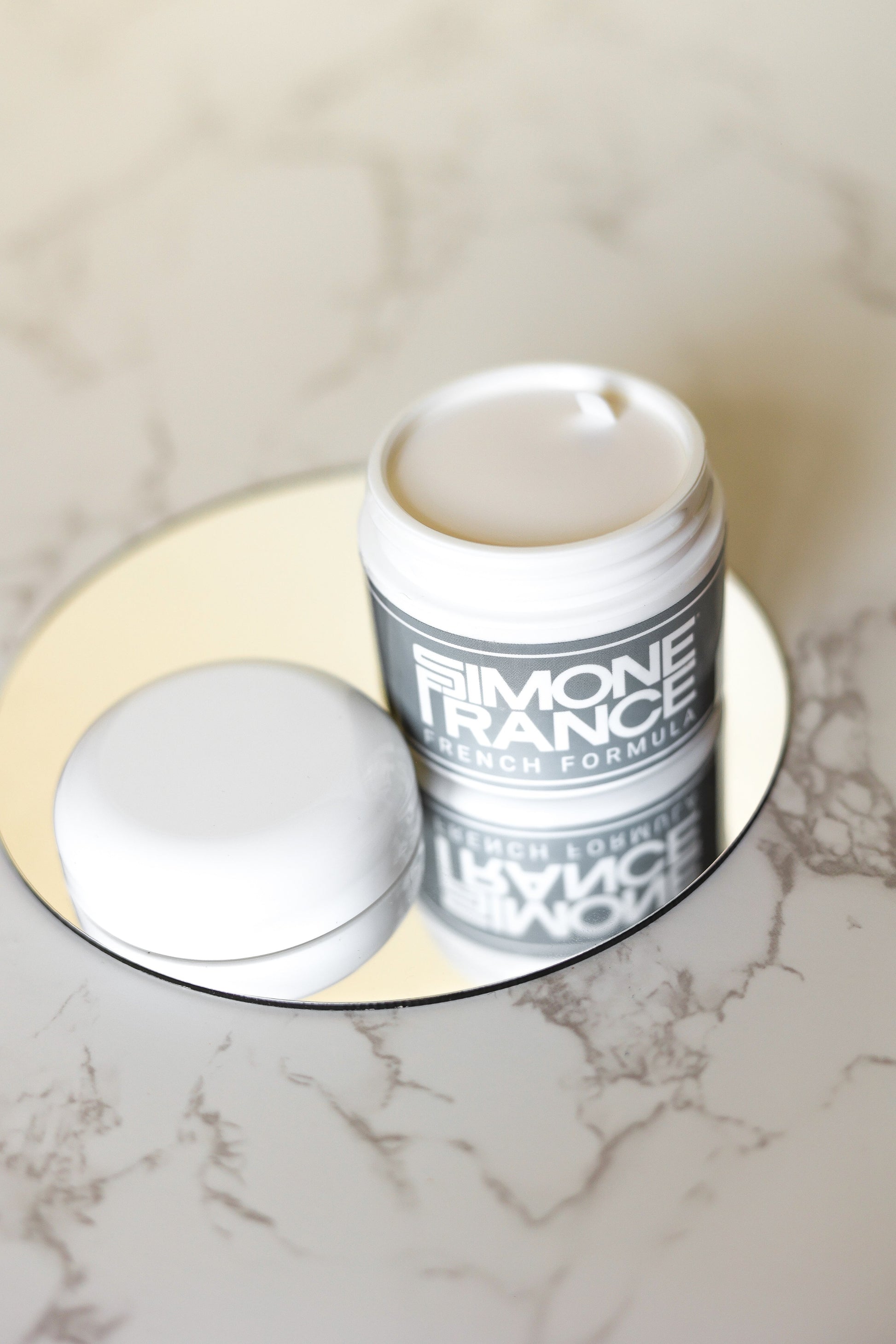 French Formula
French Formula is the quintessential French day cream/night cream. With this super-rich, high-performance moisturizer, your skin will never, ever be dry again. It is smooth and buttery, with a uniquely rich texture that firms, hydrates, plumps, and protects dry skin quickly, leaving skin velvety-smooth.
Use as Step 1 in our Sandwich® cleansing method, or perfect on its own as a day cream and a night cream.
Say goodbye to dry skin!

Helpful Tip

If your skin is extremely dry and dehydrated, mix French Formula with a drop of Line Minimizer in the palm of your hand for a powerful moisturizing and healing duo for the face, neck, and décolleté.
 
2 oz - $62.50     1/2 oz - $20
Benefits
*Imparts a dewy glow
*Leaves skin feeling velvety and soft
*Smooths fine lines
*Pampers dry skin
*Protects against the elements
*Keeps skin moist and protected all day long
Ingredients
Water (Aqua), Glycine soja (Soybean) Oil, Lanolin, Isopropyl Myristate, Cera alba (Beeswax), Squalane, PEG-100 Stearate, Cetyl Palmitate, Polysorbate 60, Lanolin Alcohol, Sodium Benzoate, Zinc Stearate, Emu Oil, Fragrance (Parfum), Phenoxyethanol, Ethylhexylglycerin


Sale price
$62.50
Regular price
Customer Reviews
08/09/2023
Anne V.

United States
Wonderful product!!!
I have been using French Formula for many years, and I can't imagine not having it as part of my skin care. A little long goes a long way as well.
12/10/2022
Sandra N.

United States
None better
I love French Formula. I have used many other moisturizers over the years but none compare to Simone France French Formula. I have been a loyal consumer for almost 30 years and feel that I am using the best moisturizer ever!
12/04/2022
Pat G.

United States
Tried and True
I have used French Formula for years - whether with The Sandwich or alone. It is light rich and creamy which is an unusual goal to achieve. Love it.
11/13/2022
Anne V.

United States
Can't live without it!!
I have been a loyal customer for the last 12 years so this is easy. ALL of your products are wonderful, and French Formula will always be part of my daily ritual. Also customer service with Sally is the best.
08/10/2022
Leanne A.

United States
Perfect!
I am in love with this moisturizer. It leaves my skin with a glow and, for the first time in years, I now sometimes skip the foundation! (You don't know me, but this is a miracle.) I use the whole routine in the morning and my skin has not looked this good since my 20's.....and I'm a long way from my 20's, trust me!
08/10/2022
Roberta L.

United States
Great value
The BEST I've been using for many years. Nothing can compare
11/06/2021
Lorene S.

United States
15 years and counting
Thank goodness for French Formula! Fifteen years ago I discovered Simone France's French Formula, finally ending my hunt for a moisturizer that works in the arid conditions of Colorado.
10/22/2021
Rhonda R.

United States
Size matters
I love this product ! i wish i could order a larger size and would use it every where... So Creamy:) i would love more history of Simone and her story...photos?
08/30/2021
Ronna B.

United States
Amazing products
Excellent. I'm a long time very happy customer! I was fortunate to have facials by Simone at her salon. The products are keeping with her exact formula and are amazing.
08/11/2021
Lucinda D.

United States
Buttery and luxurious!
My Holy Grail for my aging dry skin! Very rich. Use it in my sandwich and also wear it after swimming as a day cream. Chlorine is so drying and the French Formula is very soothing. Also wear Lovely Glow as a day/night moisturizer.
05/27/2021
Janice A.

United States
French Formula Moisturizer
I love it! Have been using this product for over 5 years. It is great for all seasons. I live in MN and it is especially helpful in the cold weather. It leaves my skin smooth, bright, reduces my lines and give moisture to my skin. I'm a senior and wouldn't use any other product.
04/21/2021
Richard G.

United States
Works like a Dream!
Once you got the Sandwich your Golden!
04/02/2021
Donna D.

United States
French Formula Moisturizer
I live in New Mexico where the climate is excessively dry and I love the way the French Formula Moisturizer moisturizes my skin and makes my skin feel!
03/23/2021
Donna C.

United States
French Formula
I have used your product for several years now and have loved the results. Upon using my most recent purchase I wondered if the formula had been changed. The product seemed greasier when applied and did not give the beautiful results I have enjoyed for many years. In the past there was an area to select the type of skin I have. I always selected extra dry and liked what I received. This selection box has not appeared on my recent orders. Service and Response from your company has always been most satisfactory. I do so appreciate that you asked for my input. Thank you. Donna Clymer.
03/22/2021
Joanne C.

United Kingdom
Birthdays
I love Simone France products and would buy more regularly if I wasn't buying from the UK. I would love Simone France to sell through an outlet in the UK, particularly now we are out of the EU. A really nice thing to do is offer a discount to customers on their birthdays … mine is the 5th April. Otherwise, I love your products … don't change them!
French Formula
I use French Formula in the winter only as a night cream. Given it's thick butter consistancy, it amazes me how fast my skin soaks it up. In the morning my skin is dewey soft. I love it!