Skip to product information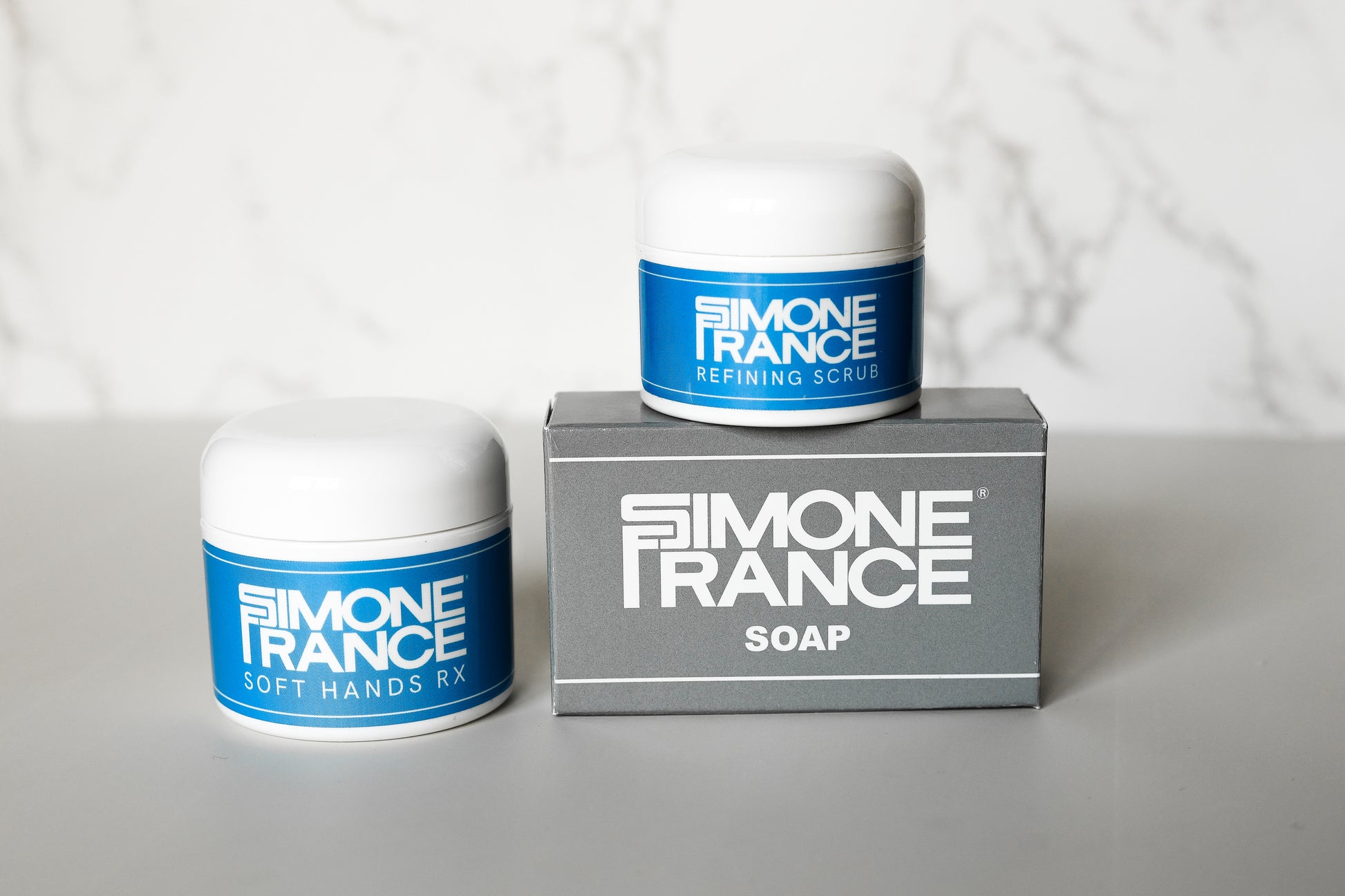 The Handwich Luxury Hand Treatment
If you like "The Sandwich" AM Cleansing for your face, you'll LOVE "The Handwich" for your hands!  
This 3-product combo contains 2 oz. Soft Hands RX hand cream, 1 oz Refining Scrub, and 4.5 oz bar of Organic Soap.  Use them with our special 30-second method for an intense hand treatment guaranteed to soften, re-texturize, protect, and plump up the skin on your hands. It will even fade or eliminate dark spots!
$45

Benefits
*Exfoliates to reveal fresh skin cell
*Fades or eliminates dark spots
*Used regularly, it keeps hands beautifully soft and smooth

*We will show you our special method!
Ingredients
(Ingredients in bold are certified organic)

SOFT HANDS RX: Purified water, safflower seed oil, emulsifying wax, aloe vera leaf juice, shea nut butter, glycerine, lavender flower water, beeswax, orange peel wax, wheat germ oil, comfrey leaf extract, plantain leaf extract, rosemary leaf extract, sunflower seed oil, xanthan gum, dehydroacetic acid, benzyl alcohol.

SOAP: Sapponified oils of safflower and/or sunflower, palm oil, coconut oil, grapefruit seed extract, rosemary extract. 

REFINING SCRUB: Purified Water, Glycerin, Glyceryl Stearate, Diatomaceous Earth, Triethanolamine, Phenoxyethanol, Diazolidinyl Urea, Sodium Dehydroacetate
Sale price
$45.00
Regular price
Customer Reviews
08/02/2023
Melody K.

United States
hand scrub....not sure yet
So the hand scrub feels great right after using it before I go to bed. I have not noticed any difference in my skin tone or brown spots. I'm a little disappointed right now.
02/04/2023
Jessica K.

United States
Miracle Hand Treatment!
After just ONE application my hands felt amazing. I have always struggled with dry and cracked hands in the winter months. I am not surprised Simone France crafted a miracle working product. I'm so glad I purchased this. I will be purchasing more in the near future for gifts, too. Thank you Simone France!
My hands feel great!
My hands get really dry and cracked but I love the way they feel after I do your Handwich! What a great idea to use hand cream with your scrub and soap!
Anti aging for han ds
A life saver for my hands, which are in salt water all day
Recommend this to all
My hands actually look younger when I use this regularly
02/22/2017
M. E.
San Francisco, United States
La Solution
This has been my go to to keep my hands soft and supple. Since I like to use my hands a lot such as working in the garden and a pampered pet that must be pet every hour, my hands are dry by the of the day. The simple technique and the formulas with the fine ingredients in these products remind me that this is, indeed, a fine French line.
skin soft
after the scrub you put on the lotion it makes your hands feel so soft.
09/30/2012
Name W.
Pittsburgh, United States
My hands never felt this good
this will make your hands soft smooth and more youthful. I love the handwhich
Don't Forget "THE HANDS"
I think it is so important not to forget one hands. This product makes me want to treat my hands with loving kindness and restore their beauty and youthful appearance.
Total makeover for my super dry hands
WOW! I just tried my first Handwich and I can't believe the difference from using it just once. My hands are so soft and smooth - can't wait to see what happens when I use it for a few weeks!
This could be a miracle product.
I am finishing my second week of using the "Handwich" as prescribed. You should know that I very rarely write reviews, am fairly cynical about marketing claims, and probably most relevant, I am in my sixties with fair skin. If you were to look at my hands alone, I am sure you would think I was in my 70"s.I am writing this review because I have seen results with The Simone France Products for my other skincare needs. If I were really brave I would send a photo of my self without any makeup and let you see for yourself what these wonderful products have done for me. I thought my hands were a different matter all together: a lost cause.Here are the results after 2 weeks:My hands feel discernibly softer.My cuticles are not cracking and peeling.The color of my hands looks healthier. I find that I am not slathering on any lotion I can find because my hands feel so dry.Who knows what will happen after another 2 week.?.
Art teacher's best friend
I'm a middle school art teacher and I have my hands in water, paint, plaster, I also teach woodworking, you name it, all day long. My hands always take a beating so my daughter gave me this as a present. I use it every day, and my hands look and feel soft and beautiful. I love it!
12/13/2011
Jennifer M.
Grand Rapids, United States
Healing and Soothing
I handle a lot of chemicals for my work and my hands show it! Cracks and dryness are something I thought I just had to deal with until I found this routine. So incredible! Thank you thank you!!!
Product:The "Handwich" Daily Anti-Aging Spa Treat
Love the products. Hand cream is absorbed quickly with no greasy or sticky residue. Fabulous!
Review handwich.Anti-Aging Hand Treatment
Wonderful way to clean and soften hands..Hope to lighten spots with longer use.Feels good and sparkling clean and soft.Thanks for keeping my hands younger...
02/12/2009
Dorothy R.
Santa Rosa, United States
Great treatment
This is a wonderful treatment for my hands! I've always had dry cracked skin on my hands and I've tried so many products but the Handwich is my new favorite!